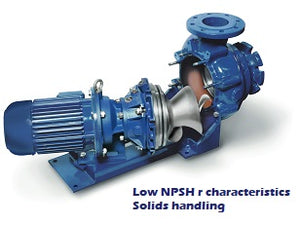 Hidrostal Screw centrifugal pumps sized for a vacuum sewage pump system. This application required pumps that combined solids handling capabilities with low NPSH required characteristics. The design of the Hidrostal pump and impeller allow them to be used in applications where many other centrifugal solids handling pump cannot operate due to their unique 'Net Positive Suction Head required' characteristics. This also allows these pump types to lift liquids at greater depths and with longer suction pipe lines or as in this case on a pump system which draws sewage from a vacuum sewage system collection tank.
Pumpsets Ltd designed and built two self priming high flow, low head, low shear pumps with priming tanks for a shrimp farming application with all wetted parts constructed from 316 stainless steel.
This method of pump priming enables higher efficiency pumps to be used which can be located above the water source removing the need for infrastructure to support and maintain alternative pumps types that require platforms or floating pontoons in order for their pump bowls to be submerged.